Helping Children of Artsakh through FCN:
With the help of all of our First Steps Parents and staff the October Fundraiser has raised a Grand Total of $11,308.00 thus far.
This total was donated to "FOCUS ON CHILDREN NOW" (FCN) and will specifically be allocated to help the children displaced by the war. Please see attached acknowledgement from FCN.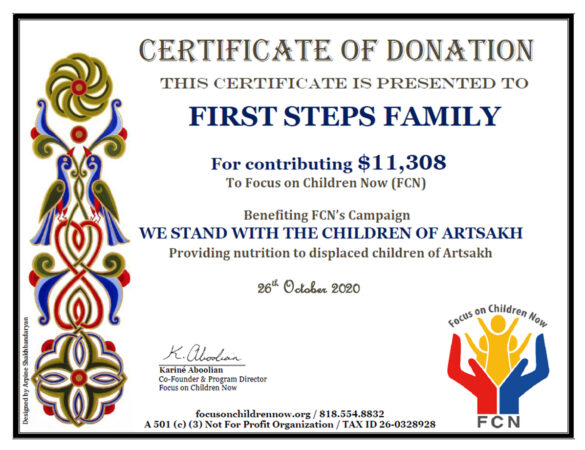 We are excited to share that our staff has collected $1,200 for Armenia Fund! As promised, First Steps administration has doubled that amount and submitted $2,500 to the Focus on Children organization. FCN had said they would match our collected amount which would mean we have donated $5,000 to Armenia Fund on behalf of First Steps!  Thank you for your collective efforts, every little bit helps and we hope to continue to help Artsakh with all future
fundraisers
 we do this year!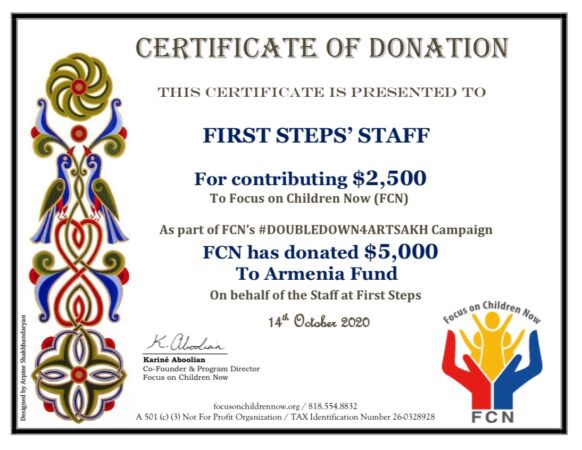 Helping Children through CHLA:
One of our previous students,
Christopher
Berube, was recently diagnosed with Lymphoma (cancer of the lymphatic system). He has been receiving treatments and is on the road to a long-term recovery! His mom reached out to us in February about
Christopher
and his family's efforts to raise funds for Children's Hospital of Los Angeles (CHLA) to thank them for the amazing care
Christopher
has received.
We are sharing this information with you to help Christopher and his family reach their goal of raising $25,000 for CHLA. This donation is completely voluntary; if you're interested in donating please visit Christopher's donation page.